Coronation Street star Chris Harper, who plays evil Nathan Curtis, has defended the show's Bethany Platt grooming storyline from those who don't think the dark plot should be screened pre-watershed
Coronation Street star Chris Harper has promised that his evil character Nathan Curtis "will not be sticking around" as the show's harrowing grooming case continues for Bethany Platt.
And, although the ITV soap, which continues tonight, has come under fire from viewers for broadcasting the dark plot pre-watershed, Chris said it was crucial to start bringing awareness "into the living room".
"By it's nature, it's a family issue and there are people of any age being abused," he told ITV show This Morning.
"It's not the weird creepy guy necessarily; it can be somebody you might trust, somebody you think you know or somebody who can leverage in some way the relationship with the family … it affects everybody.
"I think Corrie have been brilliant doing it in a pre-watershed way … it's bringing the conversation into the living room."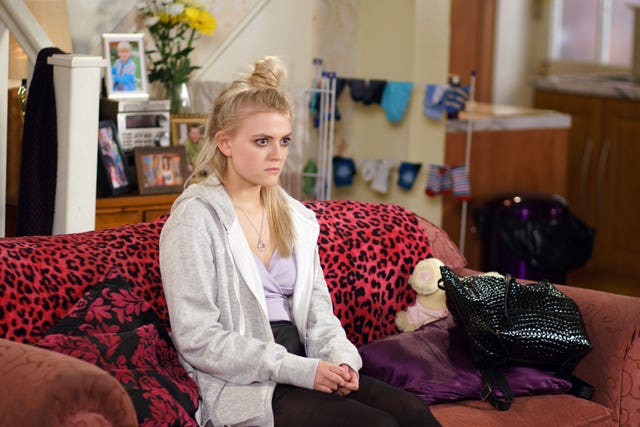 The scenes have had a serious impact on young Bethany Platt (Mark Bruce/ITV/PA)
While the outcome of the trial is still under wraps, and Nathan has been doing everything possible from behind bars to ensure that Bethany does not arrive to court, Chris said it will soon be the end of Weatherfield for his character.
"The whole story has been through Bethany's eyes and will continue long after Nathan's gone," said Chris.
"We're going to see how it affects her, but it has to be through her eyes. Nathan is not sticking around.
"It's still nowhere near its ending, whether it gets to court or not is a big thing. From beginning to end it's a long, long journey and it will affect Bethany for the rest of her life."
While filming the scenes, Chris and Lucy have both been involved with charities and support networks, such as Voicing CSA and Barnardo's, that offer help to abuse victims.
Barnardo's chief executive, Javed Khan, said: "Perpetrators of child sexual exploitation like Nathan Curtis use threats and intimidation to keep their victims silent.
"It takes even more courage, tenacity and emotional resilience to see that through the whole criminal justice process.
"That's why it's so vital for victims of child sexual abuse and exploitation to be offered one-to-one support from an independent practitioner who will support them through the whole process, from disclosure and police investigation, right through any court case and beyond."
Coronation Street continues on ITV at 7.30pm on Monday.